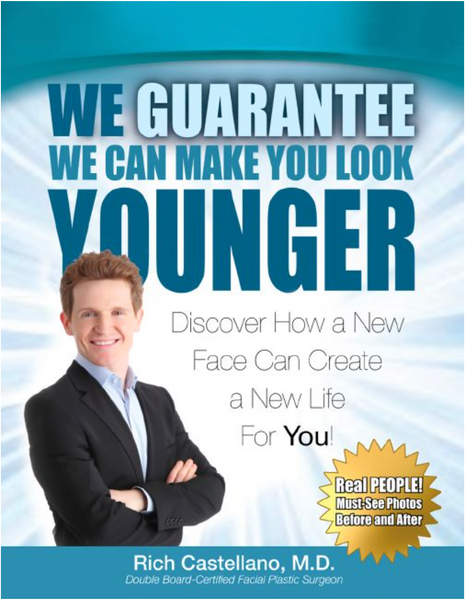 FREE COPY OF WE GUARANTEE WE CAN MAKE YOU LOOK YOUNGER
Regular price
$6.00
Sale price
$0.00
---
Receive a copy of our Wall Street Best Seller - We Guarantee We Can Make You Look Younger
Learn the secrets to looking younger - with natural results, how to save time and money on procedures, and understand what options are available to you!
Discover How A New Face Can Make A New Life For You!
Full Summary:
Have you been thinking about having a cosmetic treatment done for your face? Do you want to know what your options are as new technologies emerge? Would you like to improve your face or neck without looking like a Hollywood celebrity? Look no further than ImageLift's "We Guarantee We Can Make You Look Younger" See real patient photos and hear real patient stories. Learn what it is like to avoid a traditional facelift, avoid general anesthesia, and still look your best - without anyone knowing what you did! Years of patient experiences have been compiled for your benefit in choosing the best option for yourself. Times have changed, plastic surgery has evolved, and what was known 5 years ago no longer holds true. Give yourself the gift of insight, and give this to a family member or a friend that is ready to do something for themselves. After all, when you look your best, you feel your best. You have to read it for yourself to understand why the reviews are so good. ImageLift is simply the Art of Looking Younger.
About the author:
Meet the Author - Dr. Rich Castellano is The Smile Dr. and has patients traveling from around the world so that he may help bring out their smiles. Dr. Rich is a double board-certified facial plastic surgeon and founder of ImageLift. He has performed over 10,000 facial cosmetic procedures, including over 3,500 facelifts using the latest minimally invasive technologies. He is an experienced facial artist and ImageLift has been named as a national center of excellence for long-term facial fillers.

When he is not in the office, Dr. Rich enjoys attending church and spending time with his best smile coaches, and his family! This includes his lovely wife Irene, who is a concert violinist and Super-mom to their three beautiful children, Ella, Domenic, and Xavier. Dr. Rich loves to exercise by chasing his kids around, and he enjoys playing chess and acoustic guitar in his free time.

While Dr. Rich has met many hardships in his life, he has always found something to smile about! His superpower is that he can help anyone Share Their Smile. He is famous for being the Doctor That Heals Doctors. He stands for Quality of Life, and he stands against Abuse of the Self-Image and Vanity Surgery.
Receive your FREE COPY Today!