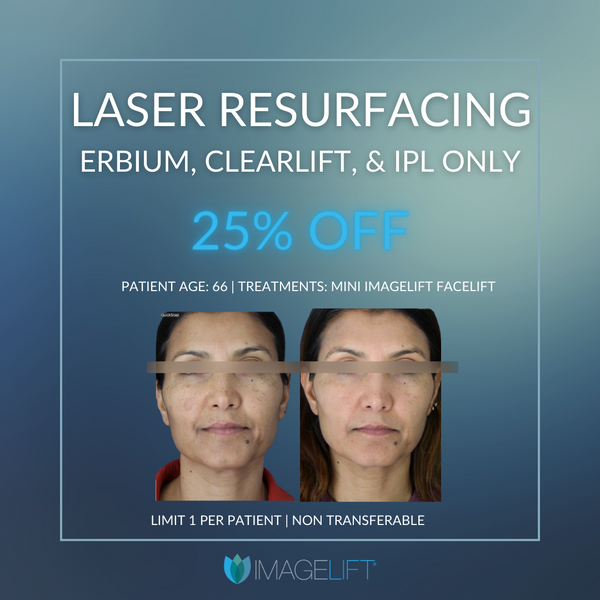 25% Off Laser Packages
Receive 25% OFF your Laser packages!
If you have spent years in the sun, especially without adequate sun protection, then you know what it can do to your skin. Wrinkles, skin discoloration, sun spots, skin laxity may be reduced or eliminated with our laser packages. Also, if you have acne scars or other skin injuries, then you may also be interested in these procedures!
EXCLUDES BABY CO2 AND CO2 LASER
ClearLift Laser utilizes a powerful Pixel-Q-Switch laser – it reaches the deepest layers of skin to treat imperfections and stimulate collagen production. This non-ablative skin resurfacing treatment is painless, safe, and fast. Sessions last as little as 20 minutes with no downtime! Patients love it for treating fine lines, wrinkles, decreasing pore size, pigmentation and more! If you want to lift and rejuvenate your face, neck, chest, etc. without plastic surgery or injection methods – ClearLift may be right for you!
Erbium Laser resurfacing is designed to remove superficial and moderately deep lines and wrinkles on the face, hands, neck, and chest. The Erbium laser results in a narrower area of heating of adjacent tissues compared with other laser skin-resurfacing methods. This results in a more focused removal of old skin cell layers. And this means that a benefit of Erbium laser resurfacing is minimal burning of surrounding tissue and fewer side effects such as swelling, bruising, and redness, so the recovery time should be faster than with CO2 laser resurfacing.
An IPL treatment uses the power of broadband light to improve the appearance of sunspots, rosacea, age spots, and pigmentation.
Treatment Area Sizing:
Small Area Options: lip, chin, jaw, ears, brow middle and forehead, cheekbone

Medium Area Options: Hands, back of neck, front of neck, collarbone, Full Face (Beard is full face)

Large Area Options: Decolletage, forearm, upper arm, lower leg (knee down), shoulders, underarm, lower arm), T-shirt back, chest, face and neck combined
Patient and any other person responsible for payment has a right to refuse to pay, cancel payment, or be reimbursed for payment for any other service, examination, or treatment that is performed as a result of and within 72 hours of responding to ad for the free, discounted fee, or reduced fee service, examination, or treatment.
Value of purchase does not expire and is transferable to other services if you are deemed not to be a candidate for the treatment.
No 3rd party financing or other discounts associated with this promotion shall apply. Please call office for full details and terms. Must make appointment no less than 14 days in advance. Limit one offer per person. Results are typical and do vary.